Meet Our Summer Camp Co-Directors!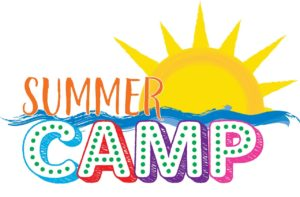 Join us for Summer, 2017! Learn more and register here!
Maranda
Hello Fair Acres Campers and Families! It's Maranda, hope all is well and you are beginning to prepare for the first day of camp! I am so excited to be working alongside Lisa this summer, in hopes for the best summer yet! I have had a busy and wonderful year since we last left camp last summer and can't wait to hear about what you all have been up too!
As some of you may know I have been studying Elementary Education down in North Carolina at High Point University for the past three years. This year was my fourth and final undergrad year. As I began the year I quickly jumped right into my student teaching. I would soon take over this class and be there main teacher for 8 full weeks starting in January. I was placed in a first grade classroom at Southwest Elementary and could not have had a better experience, teaching them how to tell time, to work as a team, and that were I live there is really a town called Sandwich.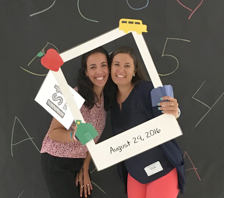 First Day of Student Teaching!
Even while teaching I found sometime to have fun. This fall I got the chance to go on a cruise and visit Cozumel and the Grand Cayman Islands. There I snorkeled with some super cool fish, relaxed on the beach, and swam in waters almost as great as our own Shubaels Pond. I also ran not only my first color fun but also my first 5k along side a bunch of friends this spring.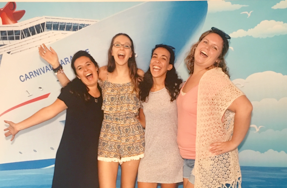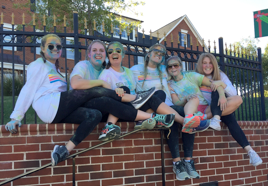 As my school year came to a close the beginning of May I made my way across the stage, yes without tripping, to graduate and receive a Bachelor of Arts in Elementary Education. After four years of demanding classes, never-ending papers and lesson plans, and countless hours spent in many different classrooms I have made it to the end of this journey, but no fear the next one is already planned.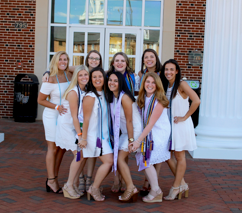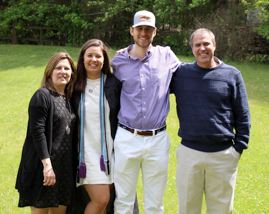 Friends and Family on the big day!
While I'm headed back to North Carolina for June to begin my masters there is no doubt that I am so ready for the first day of camp. I am looking forward to another great summer with even more memories, laughs, and good times. Cannot wait to see you all July 3rd!
Lisa
Hello Fair Acres campers and families!  Lisa, here, counting down the days until the first day of camp finally arrives!  It has been an amazing school year for me and I can't wait to hear all about yours too! Lately, the itch to come back is getting stronger and I cannot wait to see you all!  As many of you know, I am a 7th grade history teacher at King Philip Middle School, which is about 10 minutes from Gillette Stadium, and I could not be happier to spend each day building amazing relationships with my students!  It truly is the most rewarding job and no day is ever the same.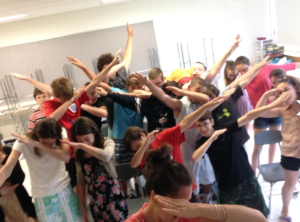 Had to participate in a class wide dabbing picture!
With that said, for the third year now, I co-advised a group of students called the Student Ambassadors who were all recommended by their teachers as students that are compassionate, hardworking, and motivated student leaders.  With the help of these 60 amazing students, we successfully held our third annual Dodgeball Tournament, which yes, is as fun as it sounds!  With the help of my co-advisor and I, our students raised over $1,400.00 and donated over 54 bags of clothing to Cradles to Crayons!   Competition was high and the fun-o-meter was off the charts!  I could not be more proud to work with such a hardworking group of students or to help raise money for such a phenomenal organization.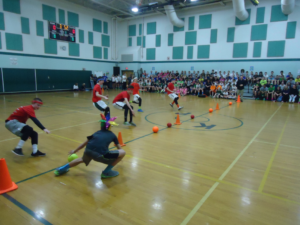 Dodge – Dip – Duck – Dive – Dodge
In addition to that, I channeled my inner American Idol contestant and competed in my third lip-sync battle, with two other top-notch teachers. We rocked the house to a mash up of Justin Bieber, Adele, the Lion King, Grease, and of course N'Sync, so prepare for an encore this summer!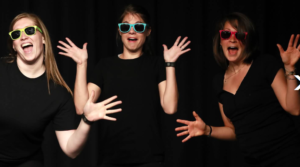 Tearing the house down with our lip-syncing mash up!
Finally, to cap off an already amazing year, after two years of challenging, inspiring, and gratifying classes, papers, and fieldwork, I graduated with my Master's degree in Special Education from American International College. My final professor left us with the words "Just because the road is steep doesn't mean you can't make it, and just because it's not done yet doesn't mean that you can't do it."  I have always believed in setting goals and reaching for the stars and with this school year coming to a close, I feel more blessed than ever.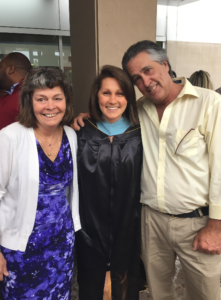 My biggest fans!
My next goal though, is to have the most awesome summer ever – with more laughs, memories, and spectacular fun than Fair Acres has ever seen.  Enjoy the last few weeks of your school years and I am so excited to see you all!
P.S. I did not have a baby, but my nephew was just too cute to keep from you!!!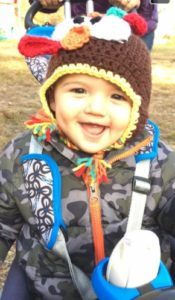 https://www.fairacrescapecod.com/wp-content/uploads/2017/09/Fair-Acres-Logo.png
0
0
Fair Acres
https://www.fairacrescapecod.com/wp-content/uploads/2017/09/Fair-Acres-Logo.png
Fair Acres
2017-06-03 17:02:40
2017-10-24 11:48:10
Meet Our Summer Camp Co-Directors!